Lockdown ease | New measures Many aspects of the coronavirus lockdown have eased in England. 
Distancing guidelines
From Saturday (4th July)  the 2m (6ft) social distancing guidance changed in England to "one metre plus".
This means that where it is not possible to stay 2m apart, people should keep a distance of at least 1m while observing precautions to reduce the risk of transmission.
The change will help offices, and venues like restaurants, hairdressers, pubs and bars to increase capacity. Businesses are being asked to help by introducing measures such as protective screens and face coverings, staggering employees' start and finish times and seating people further apart.
Northern Ireland has also announced it will reduce the distancing rule to 1m with restrictions.
In Scotland and Wales, the 2m distancing rule remains in place for the time being.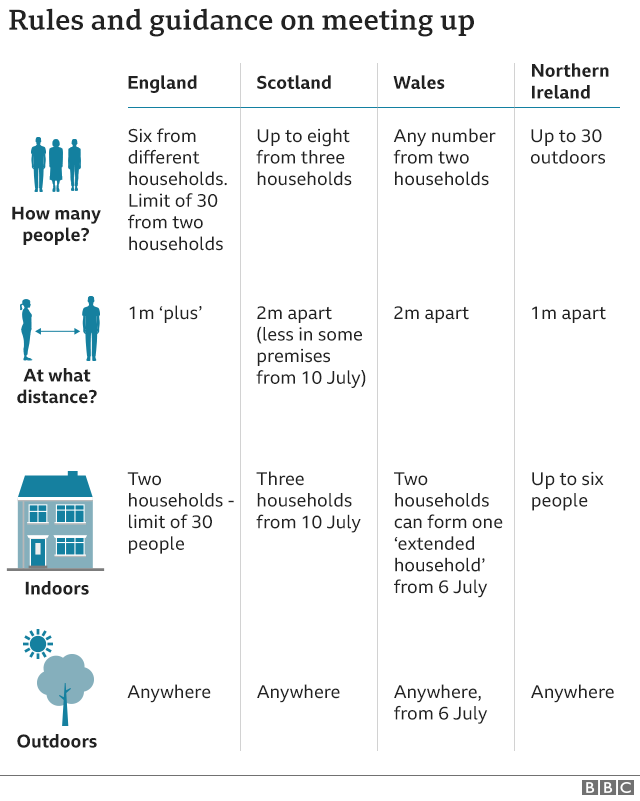 Hospitality and holidays
Restaurants, pubs and cafes in England reopened on Saturday, but will have to follow safety guidelines.:
Indoor hospitality will be table service only, with limited contact between staff and customers

Customers will also have to give contact details when they enter a pub or restaurant.

Businesses will be expected to monitor crowd density in their premises
Holiday accommodation – including hotels, B&Bs, cottages, campsites and caravan parks – were also able to reopen, with households in England allowed to stay away from home overnight. But shared facilities, such as campsite toilets, must be cleaned properly.
Overseas holidays are also back on the cards. From 10 July, travellers from more than 50 countries including France, Spain, Germany and Italy will no longer have to quarantine for two weeks when they enter England.
Hairdressers are one of many places in England that reopened on Saturday. They will also have to take safety precautions.
You will probably have to make an appointment, not turn up early, try to bring nothing with you, and wear a mask and gown while in the chair.
Other places allowed to reopen include:
Source: BBC NEWS 
Stay alert
We can all help control the virus if we all stay alert. This means you must:
stay at home as much as possible

work from home if you can

limit contact with other people

keep your distance if you go out (2 metres apart where possible)

wash your hands regularly
Do not leave home if you or anyone in your household has symptoms.
Covid-19 Coronavirus: Stay Alert – Control the Virus – Save Lives
Government updates on Coronvirus: www.gov.uk/coronavirus